Made to Order: Chesapeake Market Tote
Regular price
Sale price
$47.00 USD
Unit price
per
Sale
Sold out
Introducing the ultimate shopping companion, the Chesapeake Market Tote!  Made from durable and high quality waxed canvas and heavy duty canvas, which makes this bag built to last and withstand the rigors of everyday use.  
The Chesapeake Tote is a proper shopping tote that will last for years and grow more beautiful over time & through use.  My Chesapeake Tote's uses high quality materials and rugged construction means that this tote will outlast any mass produced shopping totes made from cheaper materials and poor construction and will put an end to wasting money. 
The vintage patina from the waxed canvas is truly amazing! The firmness of the waxed canvas means that the totes is water-resistant and will virtually stand on its own, making the Chesapeake Market Tote the perfect tote for a weekly grocery shopper, daily market tote or as a great, everyday tote.    
The Chesapeake Tote's comfortable leather handles are available in two lengths, handbag and shoulder bag, to offer you options that best suits your needs.  The leather handles add a touch of sophistication to the bag, making it as stylish as it is a sturdy.
The Chesapeake comes in four sizes , small, medium, large and extra-large, so you can choose the perfect size for your needs.  Whether you need to carry a few items from Heroes Market or Honey's Harvest Market or a full weeks worth of groceries the Chesapeake Market Tote has got you covered.
The versatility of the Chesapeake Market Tote is limitless, you use the larger Chesapeake Tote as a high volume tote for just abut anything and will always look great.  The medium and small Chesapeake Totes are just a versatile and will carry books to and from the Library as easily as they handle a few pounds of Coffee from the Coffee Market. 
When you're not using it, the Chesapeake Tote folds up easily for storage, making it an excellent option when you want to store their shopping bags in your vehicle or if you store them in a cupboard where space is limited.  And when it's time to head out to the grocery store, the Chesapeake Tote will unfurl to a spacious tote ready to gobble up all your goods for the ride home.
Overall, the Chesapeake Market Tote is the perfect combination of style, durability, and convenience. Get yours today and experience the ultimate shopping experience!
NOTE: The 'Hybrid' Waxed Canvas uses an emulsified wax finish that provides equal weather protection and performance to the Classic Wax but with a dry hand feel. Unlike the 'Classic Wax' finishes that have the waxy/oily hand feel and craze/pull-up effect, the Hybrid articles feel dry to the touch and do not have craze/pull-up effects when handling.
Care for your Waxed product can be found in the Product Care & FAQ page. 
Please allow two (2) to three (3) weeks for delivery.
Please select the following:
Exterior

 

fabric material and color.  The selection includes 

Paraffin Wax Canvas, Stone Washed Canvas, Hybrid Waxed Canvas, Bees Waxed Twill and Bees Waxed linen.  The Paraffin Waxed Canvas makes this design lighter and more flexible than the Bees Waxed. The Bees Waxed will just be a little less slouchy but not less beautiful. 

Leather

 

color, will be used for the straps.
Hardware material and color.  The selection is Antique Brass, Nickel, Gun Metal, and Matte Black.
Size selection, small, medium, large and extra-large.
Tote Measurements:
Small: 10.75" tall, 10" wide and 4.25" deep

Medium: 13" tall, 12.75" wide and  6" deep

Large: 14" tall, 15" wide and  6.75"" deep

Extra-Large: 16.5" tall, 15" wide and  6.75" deep
Tote Features:
Exterior: Paraffin 

Waxed Canvas,

 

Bees Waxed

 

Canvas, Hybrid Waxed Canvas, or Stone Washed Canvas 

South Street and Crazy Horse Oil tan Leather Handles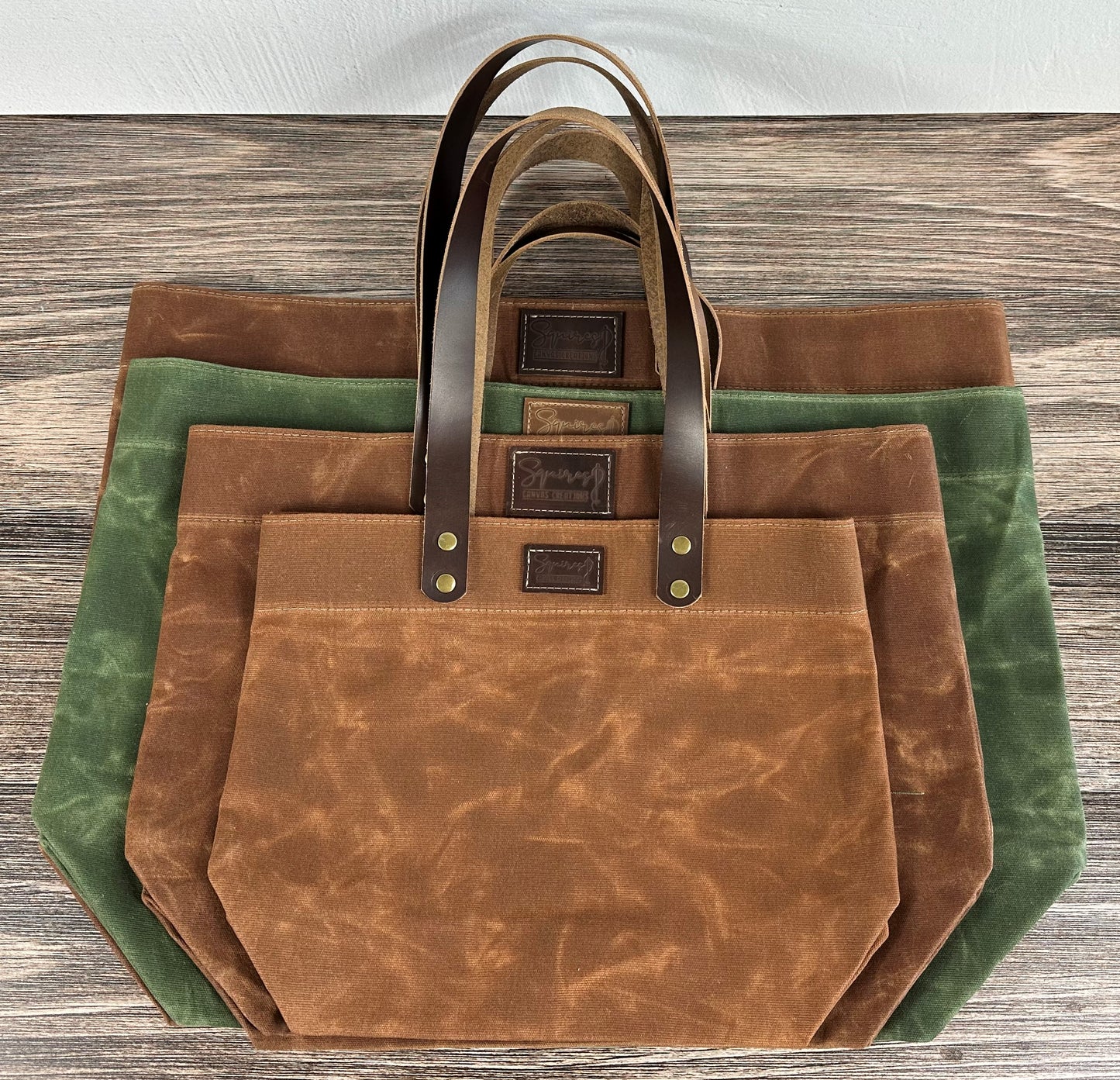 Local Shipping

Pickup can be requested within 5 miles of the 20764 zip code. Please update the "OrderSpecial Instructions" during checkout to request a local pickup.

Did you Know

I design or redesign all my produects and make everything you see. I strive to use the highest quality materials I can source.